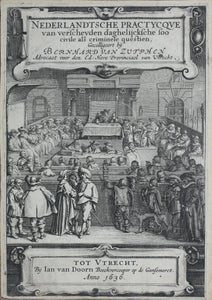 Artist: Adriaen Pietersz van de Venne, (Dutch, 1589-1662), painter, draughtsman (designer for prints), and writer. Dean of the guild of St. Luke in 1631-32, 1636-38 and 1640. In 1656 founder-member of the academy Pictura at The Hague.
Title: Gezicht in een rechtszaal. (View in a courtroom). Title page for "Dutch practice of various day-to-day both civil and criminal questions" by Bernard van Zutphen.
Titled, Dated, and Signed in plate: Nederlantsche practycque van verscheyden daghelijcksche soo civile als criminele questien. Gecolligeert by BERNHARD VAN ZUTPHEN Advocact voor den Ed: Hove Provinciael van Virecht. TOT VTRECHT, By Ian van Doorn Boeckvercooper op de Ganfemerct. Anno 1636.
Dimensions: Image 7" x 4 3/4".
Printmaker: anonymous.
Publisher:  Jan Everdsen van Doorn. 
Date: 1636.
Materials and Techniques: engraving on laid paper adhered to the backing on four corners.
Watermark: yes.
Mat and Frame: backing sheet.
Provenance:  The Estate of George "Yorgo" Demetrakopoulos; professor, assistant director of the Medieval Institute, and assistant to the dean at Western Michigan University, Kalamazoo, Michigan, from 1965-2000.
Condition:  Trimmed to the platemark. The signs of aging are appropriate for the time. A detailed condition report is available on demand.
Museums and Libraries: The Rijksmuseum RP-P-2016-745.
Art Movements, Periods & Schools: Dutch School XVII C.
Note: This entry incorporates text from Wikipedia and the catalog entry of a similar item from The Rijksmuseum collection.