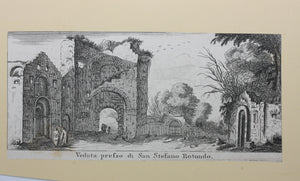 Artist: Israel Silvestre (French, 1621-1691), draughtsman, engraver and publisher; founder of the Silvestre dynasty. Mostly made topographical views; plates remained in print long after his death.
Title: Veduta presso di San Stefano Rotondo.
Inscription l.m. Veduta presso di San Stefano Rotondo.
Dimensions: Sheet 2 3/4" x 6". Backing sheet 4" x 10" (trimmed).
Publisher: Thomas Major (British, 1720-1799), engraver, dealer and publisher. He brought the collection of Rembrandt etchings to England.
Publisher: John McCreery, English publisher and printer (1768-1832).
Edition: A Collection of Original Etchings. Published by McCreery. London, 1816. The original copper plates were believed to have been destroyed after this publication.
Date: C. 1636-1799 (plate), 1816 (published).
Materials and Techniques: etchings on a thin, lightweight wove paper printed without margins. 
Mat and Frame: adhered to the backing paper.
Provenance:  The Estate of George "Yorgo" Demetrakopoulos; professor, assistant director of the Medieval Institute, and assistant to the dean at Western Michigan University, Kalamazoo, Michigan, from 1965-2000.
Condition: Laid down. The signs of aging are appropriate for the time. A detailed condition report is available on demand.
Part of  Series:  Antiche et moderne vedute di Romae [No] 5. 
Museums and Libraries: The British Museum 2005,U.24.
Art Movements, Periods & Schools: French School XVII C. 
Note: This entry incorporates text from the catalog entry of the same items from the collection of the British Museum.