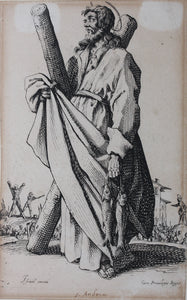 Artist: Jacques Callot (French, 1592–1635).
Title: St. Andrew.
Titled, Dated, and Signed in plate: Israel excud Cum Privilegio Regis.
Dimensions: Sheet 6" x 3 5/8" Trimmed to platemark. Backing sheet 9 1/8" x 6 5/8".
Publisher:  Israël Henriet (French, 1590 c.-1661), Callot's publisher and best friend. Trained in Rome with Tempesta. Published Lasne portrait of Callot in 1629 that marks beginning of their association, which carried on after Callot's death, when Henriet purchased many plates from his widow. His stock was bequeathed to Israël Silvestre, his nephew, and godson. 
Date: c. 1631.
Materials and Techniques: etching on laid paper.
Mat and Frame: tipped to the backing sheet at the top corners.
Provenance:  The Estate of George "Yorgo" Demetrakopoulos; professor, assistant director of the Medieval Institute, and assistant to the dean at Western Michigan University, Kalamazoo, Michigan, from 1965-2000.
Condition:  Discoloration to the points of tipping. The signs of aging are appropriate for the time. A detailed condition report is available on demand.
Catalog Raisonné: Édouard Meaume, 1860. T.2. No 109/I, p. 85.
Part of: Series: Salvatoris Beatae Mariae Virginis Sanctorum Apostolorum Icones.  Series: Les Grands Apôtres.
Museums and Libraries: The British Museum 1982,U.4020.
Art Movements, Periods & Schools: French School XVII.
Note: This entry incorporates text from Wikipedia and the catalog entry of a similar item from the British Museum collection.